1460 Entries. Showing page 2 of 98...
02/08/2013
Shatner's Wry Advice For Me


01/31/2013
Let's Take an Inventory

I really wanted to like this review of Wes Anderson, and the author is very astute - focusing on the problem of artifice vs. art. He is definitely finding the main question with regard to evaluating Anderson's movies.

But here's how I commented on the article:

"Let's take an inventory," Sam says to Suzy in Moonrise Kingdom. We follow Zissou around and take an inventory of his ship, his shoes, his crew, collected like dolls. We look at Margot Tenenbaum's room with her books and miniature sets. Max Fisher is his typewriter and his pin for perfect attendance. It *is* delightful, and I love wallowing in these tiny worlds, and yes the artifice is the thing, as you note. But sometimes even the dialogue becomes a collection--an inventory of lines that we might use on one another; further evidence of our taste. If that's the point - a kind of reductionism - we are what's in our pockets and in our rhetorical toolboxes - then it succeeds. But with each successive Wes Anderson movie - all of which I love and practically memorize - it feels like his characters are breaching the third wall. They all move and act like closely watched, self-conscious, paranoid, postmoderns, flying the flags of their identity, wearing costumes and not clothing, and saying lines rather than talking to each other. My heart longs for something more.

01/28/2013
Linkage for your Thinkage

Graphic Design/Web

Redesign of one of the most influential web design groups: A List Apart (The Kindle-Ization of web type - everyone's doing the legibility, auto scale thing.)
Apple: The Humane Interface
Aw, Parked Domain Girl is Real: Backpack Girl
Amazingly Formatted Website for a dude's memoir

World / Politics

Alarming Sinkhole in Louisiana: Bayou Corne
Iran and Nukes: The Complete Idiotís Guide To Iran And The Bomb, Or: How I Learned To Stop Worrying And Love The Facts
Site that follows the job market's ups and downs: Daily Job Cuts.com
Wedgeworth: Obama's Epiphany
WSJ: Mr. President, We are a Nation of Takers
List of Children Our Cursed Country Killed with Drones: Noor Aziz, age 8; Maezol Khan, age 8; etc.
Baseball: STL serenades Musial procession with "Take Me out to the Ballgame". Helluva city.
Cafe Hayek: Measuring Growth

Education

Higher Ed: What is the Problem at Saint Louis University?
NY Times: Independent Scholars
10 Year Old Boy with Asperger's gives a speech to his class

Art/Architecture

Beautiful Painting that Wyclif linked to: The Shoots of Autumn Crops
Amazing: The Pole House
From Grain Silo to House: Texas Grain Silo House
Neat: History of Pride & Prejudice Book Covers

Theology

I kid you not, this book advocates witholding communion from Alzheimer's patients: Children and the Lord's Supper
Alastair's Discusion Makes More Discussion - Theology of Disability
Weird "New Monasticism" guy I'd never heard of, and yes, he's married, and yes he is wearing something strainge: Shane Claiborne
Debate Between Augustine and Bertrand Russell: Saints and Skeptics Meh. "Augustine" did fine, but the other guy just wasn't up to that level.
Imprimis: Man, Sex, God and Yale
Curriculum for Outreach to Inquirers: Christianity Explored (Would love to see these materials)
Interesting Modern Example of Idiom often used by Hebrew Prophets: I never saw joy before (like "I desire mercy, not sacrifice.")

Conspiracy / Forteanism

Funny: Alleged 300 Million Year old Machinery Found in Russia
Scotland's Sandy Hook: Dunblane and interview with the main researcher
Sandy Hook: The only picture of broken glass on the whole internet
Peter Breggin: Guy who advises not taking psychiatric drugs / prozac / ritalin
Alt News Site: Global Research

Technology / Geekery

Cheap Android Tablet I saw mentioned: Ainol Hero. Caveat Emptor, probably, but good specs.
Lunar Test: Fields of the Moon
Apple reports one of the largest corporate earnings in the history of the earth
Aww, cute little Lego Mac
Dr. Who Awesomeness: Tardis Tent
Video: The Science of Productivity

Music

NPR: 10 Artists you should have known in 2012
From Challies: The Grey Haven. The guy was an American Idol top 25 guy - really great music, though.


Weekend Wildlife

Last weekend I split my time between Boy Scout camp at the Noxubee Refuge and home where I was preparing for Sunday School teaching.

Here are some of the animals or traces of animals that I saw:

1. Spotted Salamander eggs in a shallow seasonal pool.
2. Bald Eagle standing on a cypress tree.
3. Cormorants
4. American Coot
5. Great Blue Heron
6. Red Cockaded Woodpecker
7. Bluejay
8. Bluebird
9. Mockingbird
10. Raccoon (deceased)
11. Opossum (deceased)
12. White Tailed Deer
13. Eastern Box Turtle (deceased)
14. Red Tailed Hawk
15. Buzzards
16. Kildeer
17. Canada Geese
18. Fox (stuffed)
19. Bobcat (stuffed)
20. Humans
21. Cattle Egrets

I went on a 5 mile nature hike with Nathan and Charlie and that was probably the highlight. I enjoy walking in the woods, and the Noxubee Refuge is just a beautiful place with lots of interesting wildlife. The Cockaded Woodpecker is not something you can see everywhere. Even though it was a cold, rainy weekend, so many interesting bits of wildlife were active.

01/21/2013
MLK Day Road Trip




Today we went to a small Mennonite bakery in Brooksville, MS. We were searching for some local honey and wanted to try these apple fritters they make that are supposed to be really good. This other blogger had some good photos of the place.

I thought the fritters were great and Ann said the honey tastes good too. I haven't tried it yet. In this photo above, we look like the ideal family, but the boys bickered the whole way, so don't look up to us or anything. We also laughed a lot.

It was funny because we took Hwy 45 down to the bakery but then saw a sign to the Noxubee Refuge so we took that way back and ended up driving all the way through the refuge on the way back to Starkville - very scenic country - rolling farmland and then the refuge is just beautiful.

It was a quick road trip, but it was just what we needed for a fun little getaway on MLK day.

MLK Holiday Links Palooza

The following are things I've noticed on the web that might be useful, interesting, or helpful.

Art and Design

1. Beertone - the colors of beer
2. Amazing Treehouses
3. Blog of guy who redesigned Microsoft.com: Trent Walton
4. Video: Towers made from magnetic oil
5. Louis Armstrong and Jimmy Durante Together: Old Man Time
6. Great painting: "Geraldine Lee, No. 2" by George Bellows
7. Cool: Hand Drawn map of Chicago Speakeasies

Humor

1. Baroness Elsa Schraeder tells her friends about the breakup of her relationship to Captain Von Trapp
2. Research Science is often a joke with too much prestige: Overly Honest Methods
3. University of Chicago Indiana Jones Hoax

Postcards from a Disastrous Sexual Revolution:

1. Porn and the Contemplative Life
2. NY Times: A Roomful of Yearning and Regret
3. NY Times: The End of Courtship
4. A.N. Wilson: Iíve lived through the greatest revolution in sexual mores in our history. The damage itís done appals me
5. NY Mag: Elizabeth Wurtzel Confronts Her One-Night Stand of a Life
6. Dreher: Douthat and Decadence
7. Goldman: Decadence and Fertility
8. The Atlantic: America Isn't as Decadent as Social Conservatives Thing It Is

Race and Class

1. Rod Dreher: What I Grew Up Not Talking About
2. NY Review of Books: Why Are Poor Kids Paying for School Security?
3. Poverty Cure: DVD Series on How to Help Poverty without hurting

Inauguration Related

1. MLK's speech against the Vietnam War
2. New Yorker: brief history of inaugural poems
3. Video: Cornell West doesn't like Obama's using MLK's bible
4. The Giglio Flap shows that evangelicalism is a bad brand: Is this the 'End of Evangelicalism'

Theology Stuff

1. We need to be careful our morose communion in the PCA doesn't become a virtual private mass.
2. Video: Amazing interview with English prof from Syracuse U who converted to Christianity. Sermons from her first pastor.
3. First Things: What if the Science-Religion Conflict is Hurting the Economy?
4. Book: The Church Friendly Family
5. Book Review: Awaiting a New Darwin (Review of Nagel's newest)
6. Article: The 50 Smartest People of Faith
7. Hans Madueme: Some Reflections on Enns and the Evolution of Adam
8. Audio: great conference in UK: Adam in the Bible, the Church, and the World
9. Dreher: As Goes Christianity, So Goes Society
10. Wedgeworth and Escalante: John Locke's Assumptions
11. Plantinga (Godzilla) vs. Sam Harris (Bambi): Bait and Switch
12. Brandon Watson: Ought and Is
13. NY Times: Decline of Evangelical America
14. First Things: The Christian Origins of Islam

Personal Productivity

1. Seinfeld's calendar technique and a printable calendar to use for it.
2. List of Free e-Books
3. Use Reddit to become a better man
4. Good Point: Maker's Schedule vs. Manager's Schedule

News and Conspiracy

1. Insiders covering insiders
2. Video: 9/11 Explained in 5 Minutes
3. Aaron Schwartz-Related: Carmen Ortiz's Sordid Rap Sheet
4. Flashback: Bush whitehouse creates its own realities
5. Book: All the Shah's Men
6. Drills that "go live": Taft Union High School Drill Becomes 'Real Life'
7. Book: A Century of War
8. The Science of Comment Trolls
9. Charles Fort: The Book of the Damned
10. James Madison: Federalist No. 46. He touches on the right to bear arms here.
11. Fun: Human / Dragon Interaction
12. NPR Interview: Fall of the House of Dixie
13. One of the only female mass killers in US history: Sylvia Seegrist
14. Henry Hazlitt: The Way to Will Power
15. Keith Ablow: We are Raising a Generation of Deluded Narcissists
16. Cato: What Bush-Cheney-Obama Don't Want Known on Torture
17: CNN: Fake Iraq News Footage
18. Wild Case: The Truth about the West Memphis 3
19. Living Fossil: Pygmy Whales
20. Dave Grossman: Teaching Kids to Kill. This guy is a scientist of 'killing.'
21. The Anti-Islam film had nothing to do with Benghazi Attack
22. Sheldrake: Why Bad Science is like Bad Religion

Technology

1. How Apple is destroying Android from the Inside Out
2. Faux Tech Reporting: Hilarious review of Panasonic Toughpad Conference
3. Wow: Mutiny in Orbit aboard Skylab
4. Book-writing algorihms
5. Fake "converts" to anthropogenic global warming: Richard Muller. Real world "troll" behavior.
6. Rise of the Single Page Application


12/26/2012
Rights Talk and Gun Control

When I heard Stanley Hauerwas speak in St. Louis he eschewed what he called "rights talk." Someone asked him about disability rights and he used the opportunity to talk about how fruitless it is to think in terms of our rights. It has been helpful the past week to think of the gun control debate without employing the idea of rights. Think about guns in terms of our responsibilities instead. If you have the responsibility to protect someone, then start thinking about how you might fulfill that responsibility in situations where a gun is the only reliable way to exert your will at a distance or even up an imbalance of power. Suppose you believe that a people has the responsibility to alter or abolish an unjust government. Suppose you're an old man and live in a dangerous neighborhood with your old wife. Suppose you're responsible for the safety of a school full of young children. How does this change your moral calculus?

12/14/2012
Meeting the Locals

Monday night, Nathan and I went to Lowe's to get some tubing for his geometry project. More on that later. But as we approached the car after buying the tubing, there was a Cherokee next to our car with the back door open. A Lowe's employee and a customer were standing there with a dolly carrying the heavy weight of a new drill press. I told the guy, "Man, I wish I were buying a new drill press tonight." The Lowe's employee said - "Maybe you can help us load it up." So the employee, the buyer, and I heaved the drill press into the back of his car.

When we were done, I asked what he was drilling with it, and he said "Custom Tattoo Machines." If I had made a list of all the possible replies to that question, I would never have included the fabrication of Tattoo Machines in my top 100 likely replies. He explained that he makes the machines that allow people to create tattoos and he sells them all over the world. He makes these machines right here in Mississippi in a little town near Starkville. He gave me his card, and I just now got around to looking for his website. Here it is - Owl Irons. So there you have it. World class, bespoke, tattoo machines made right here in Mississippi by some dude in a Cherokee.

12/12/2012
Tear Jerking

This is just a beautiful summary of the year. Humans are amazing.



12/08/2012
The Bike Returns

I saw CC and his friends riding by today and I confronted him about the bicycle. I told him that the most important thing was that we needed to be able to trust each other and that he had lied about bringing it back the other day. I also told him that I didn't care what condition the bike was in. I made him promise that he still had it and would bring it back within the hour.

Within the hour, his brother brought the bike back with some story about leaving it in a shed and it getting rained on, thus the changes. When it left it was a perfect, beautiful Mongoose with a rotor, hand brakes, nice chrome finish. It looked barely ridden. The bike that returned was painted flat black. Even the cool silver "Mongoose" medallion was painted over (Eli really liked the medallion). The rotor was broken off, the brakes were gone, the hand grips were gone. The pedals were ground down. The wheels were mismatched, not even the original ones. All the reflectors were gone. It is unusable. And the grasshopper drags itself along.


11/27/2012
Hilarious Parade Float



I thought this was hilarious. It made no sense; a bunch of girls huddled under blankets, some random guy singing Christmas carols over a loud speaker, a truck slathered in butcher paper with random words on it. So I finally just had to ask them what group they were. Filmed at tonight's Christmas parade in Starkville, MS. Bonus: I noticed just now that I caught a really funny line from Eli as he complained about how none of the floats was throwing out candy.

11/22/2012
Happy Thanksgiving

It's been a very good Wednesday. I tried Brandy for the first time (thumbs up). I drove a Chevy Sonic - it is like driving a kayak with XM radio. I also finally saw Moonrise Kingdom. I will have to see it again to catch everything, but Anderson paints with such a rich symbolic palette. Obviously there was the Noah's Ark theme. Sam meets Suzy at the church performance of a Noah's Ark musical. Suzy is playing a Raven. Ravens show up throughout the scriptures - they bring food to Elijah and Jesus asks us to consider them because they neither sow nor reap but are cared for by their Father in heaven. The Raven is also the first bird that Noah sends out first to see if the flood has subsided. The movie begins and ends at the church; at the end, Suzy and Sam ascend the steeple and when they are at the top, they both let go of a piece of cloth - I can't remember if it is their masks or what - but these look like doves floating down from the steeple. The steeple then is hit by lightning and they are hanging, depending upon the grip of Captain Sharp. Suzy, throughout, has binoculars - she is a raven.

There are also some Adam / Eve references, and I'd have to check, but there have to be some references to the tent with its drawings of animals on the inside, just like the tabernacle. There is a wood thing going on too - Camp Lebanon (cedars of lebanon) and when Bill Murray's character realizes he is a cuckold, he goes and chops at a tree for no reason. Sam is always covered in animal skins like Adam after the fall.

Anyway, interesting movie - a world with improbable dialogue, like all his movies. I think that's why Rushmore is so successful - because the dialogue is a bit more realistic - all the adult characters play straight man to Max Fisher's shtick. Moonrise Kingdom is all shtick, but it really works too.

I love the scene in the hold of the ship when Ed Norton (the scoutmaster) tries to comfort Sam and tell him that he had never seen a better pitched camp.

I'm looking forward to Thanksgiving turkey. Tonight we had Mexican food- Ann made rice, beans, tacos, pico de gallo, corn tomalito, etc. It was excellent.

On Sunday, I heard the neighborhood boys playing basketball and I walked over with Eli and I was wearing my church clothes. I found CC and I asked if he would please return the bike. Tout suite. He asked if it could be later that day. I said "no" and explained that I wanted to put training wheels on it for Eli. I wanted to follow him to his apartment and get the bike, but he didn't want me to. He promised he'd bring it "in a minute." I walked back home and had Sunday dinner, and it is now Wednesday and he has not brought the bike back. I imagine it is either lost, stolen, hocked, etc. Who knows. I just want him to man up and tell me the truth. I will go over there again this weekend to find out what's up.

Last week was interesting. Flew to Raleigh, NC for a presentation. It went pretty well; I had to talk for almost three hours straight. Work in MS is going well. I'm getting used to being a government employee. I never thought I would be, and I have a mixture of feelings about it. The libertarian side of me is sickened. The practical side of me thinks that someone would be doing the job, might as well be me. The historian side of me thinks that working for a university is not the same thing as working for the government even if the university is a state university. Since the invention of the university, it has always been a tiny country; almost a kingdom within a kingdom with its own police and king.

I'm getting back into iPhone programming again after having to do more java for a few months. I'm also still doing a lot of proposal writing and power point.

I've been very tired in the evenings - falling asleep most nights by 8:00 and having to wake up to pray with the boys and put them to bed. It is ridiculous. It is either my age, or the degree to which I exhaust my brain during the day, or all the benadryl I take, or the way I overeat at dinner, or something or everything, but it is very frustrating not to have any nighttime stamina anymore. I probably need to exercise, but I don't have a clear hold on where I could work exercise into my day.

The big plan for Thanksgiving break was to tackle rebuilding the transmission on the Honda. Well, we were invited to something fun on Saturday that I can't refuse, and that pretty much prevents me from getting involved in the repair if the main day of work is gone. Further, I had to buy new tires for the sedan, so it doesn't leave a lot for parts on the Honda. I talked to a local community college and they are willing to put in a rebuilt transmission for me, but do not want to tackle an actual rebuild, which I totally understand. I wish that a meteor would just hit the honda in the middle of the night and be done with it.

Well, better run get some shuteye. Sorry for not posting as frequently as I'd like to; my early bedtime lately has really put a damper on all extracurricular activities.



11/08/2012
Prized Possession

In 1981, I was in first grade and Ronald Reagan was shot by John Hinckley, Jr. I wrote Reagan a get-well note and this is what I received back in the mail: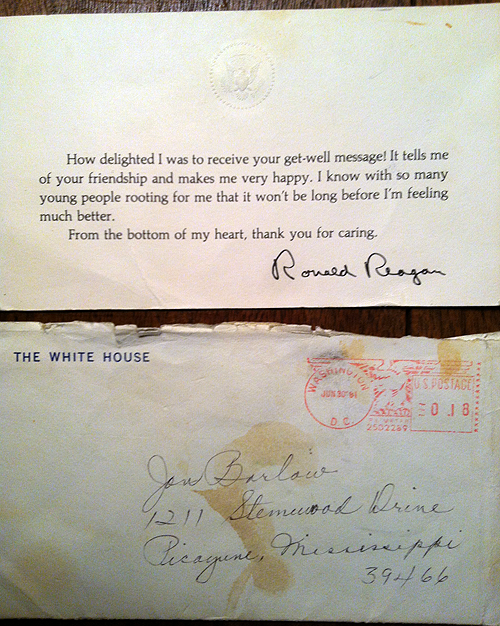 11/05/2012
Happy Guy Fawkes Day


10/31/2012
Pursue Inspiration with a Club

"You can't wait for inspiration, you have to go after it with a club"

Jack London