05/21/2013
A Strange and Homeric Suicide

This morning something strange happened. It reminds me of the self-immolation of Buddhist monks. A seventy-eight years old French historian, Dominique Venner, walked past the crowd of tourists in the Notre Dame Cathedral to the altar on which he placed an envelope. He then took a pistol and killed himself.

I don't know a great deal about French politics, but I understand that Venner would be considered a kind of nativist or nationalist. He was an historian and author and political activist. At some point in his career, he protested France's giving up Algiers and was even jailed. Recently he has been involved in protests against the legalization of gay marriage and has expressed concerns about what he called the "replacement" of his people by Muslim immigrants.

The envelope he placed on the altar contained a very rational suicide note, explaining that he was of sound mind. The letter articulated a view of ethnic identity that, for him, transcended Christianity and sought a European unity of kith and kin set over against Muslim deterioration of the consensus and the attack on family represented by the newly passed laws legalizing gay marriage. In part, he wrote, "I believe it necessary to sacrifice myself to break the lethargy that plagues us. I give up what life remains to me in order to protest and to found. I chose a highly symbolic place, the Cathedral of Notre Dame de Paris, which I respect and admire: she was built by the genius of my ancestors on the site of cults still more ancient, recalling our immemorial origins ... lacking an identitarian religion to moor us, we share a common memory going back to Homer, a repository of all the values ​​on which our future rebirth will be founded once we break with the metaphysics of the unlimited, the baleful source of all modern excesses." This was, then, an almost philosophical protest. He gives me no indication of being an orthodox Christian in the few things I've read surrounding this story, and he certainly does not repair to Christianity as he justifies and explains his actions.

He also gave a final blog post in which he more fully articulated this nationalistic vision and called others to drastic action, beyond words, to wake up their countrymen. He made the point that the gay marriage law would be overturned in just 15 years or so when Muslims institute sharia in France. In other words, he hated the law, but he hated more the way that the law would be overturned. And so deeds are required, he wrote, "It certainly will require new, spectacular, and symbolic gestures to stir our somnolence, shake our anesthetized consciousness, and awaken the memory of our origins. We are entering a time when words must be authenticated by deeds."

This story interests me because I've been thinking a lot lately about diversity. I've been very challenged by the reading I've been doing, and was so happy this week to run across some hopeful sociological research that showed how people can actually live together. If you haven't dipped into the sociological research on diversity, you might be surprised to find a real pessimism even in the liberal academy that people can trust each other in ethnically diverse environments. America's most prominent thinker on this subject, Robert Putnam of Harvard, published research that demonstrated how diverse environments lead to mistrust. Thankfully this week I found the work of Miles Hewstone of Oxford who responds directly to Putnam. I think I am getting closer to being able to put some systematic bones on the subject that has really been such a vexing problem for me to understand.

So, while I have no sympathy for suicide or racism, and I have no understanding of whether Venner is the equivalent of a white supremacist or if he is just a guy concerned about the Islamization of his country, I think this man's actions are worth noticing. Imagine living in Paris and seeing the dying gasps of Christendom running on the fumes of traditionalism colliding headlong into what Venner called the "metaphysics of the unlimited" - that is, the anything goes sexual morality of 2013. The legalization of gay marriage probably felt like a terrible blow to him and then to hear Algerians mock the law saying, in effect, don't worry; we Muslims will be in charge here in a few short years and we'll change the law back. For a 78 year old guy it is probably too much to take. I don't have an answer for France; I'm not well versed in global politics or the demographics of France. In fact, French law prohibits census taking that divides the French by creed or color, so there is very little actual demographics information about France. But in my limited understanding, it sounds bad for the French. Venner has committed an ominous act and it will be interesting to listen in on the conversation it spawns.

05/16/2013
England as the Suburbs of Europe

Hearing all the talk this month about suburbs (here and here) made this passage in John Donne's sermon stand out to me when I ran across it.

In his "A Sermon ... to the Honourable Company of the Virginian Plantation" (London, 1622) Donne addresses a company who is about to set sail for Virginia for, he hopes, an evangelistic purpose. He says:

Your principal end is not gain, nor glory, but to gain souls to the glory of God. This seals the great seal, this justifies itself, this authorises authority, and gives power to strength itself ... you shall have made this island [England] which is but the Suburbs of the old world, a Bridge, a Gallery to the new; to join all to that world that shall never grow old, the kingdom of heaven.

If you follow the logic, Europe is united to the Kingdom of Heaven, England, as its suburb, is united as well, and through the efforts of those who will bring the gospel to Virginia, they will unite all three to the kingdom and turn England into a bridge. And this purpose justifies the charter and the actions of the Virginia company.

Anyway, I have no point to make here except that Donne's mental landscape is interesting - the way he conceives of England's relationship to Europe and the way that he sees the spread of the gospel working. The suburbs become a bridge between the developed and the undeveloped.

I looked up "suburb" in the OED and found that from its earliest uses in English it was used for the area outside of cities. But it also had another prominent meaning - "The marginal or subordinate part of an immaterial thing; the point of transition between states, eras, etc." For instance, the "suburbs of mercy" (1642). Obviously, this figurative use of the word comes from the concrete use...

05/04/2013
Good Men and Great Men

I could have learned the point of this brief essay from the Bible or from Benjamin Franklin, but I learned it by reading fiction. Of course, the fiction itself was written by a reader of the Bible, and that's a significant point too. The real blue ribbon aspect of this fiction is that the author intended for children to read it, so hopefully the next generation will learn this point at a younger age than we did. It helps that the point I'm about to make is also very obvious. So before I make the point, let me just say that you should read all the Harry Potter books if you haven't already, and that all of us (especially men who tend to read too much non-fiction) should be reading more fiction. Now, it is no great letdown to reveal the point early--that there is a large difference between a desire to be a great man and a desire to be a good man.

When Harry Potter entered Hogwarts School of Witchcraft and Wizardry the first matter of business was to sort him into a house. The school itself organized the students into four houses, each with a particular attribute. This aspect of the book deserves a separate essay because Rowling, the author, divided the houses in a very clever and perceptive way that mirrors the different kinds of people there are in this world--a kind of parable of the soils. But two houses in particular were on Harry's mind as he sat in the chair to be sorted. The first was his father's house, Gryffindor. Orphaned as a baby, Harry could not really remember having met his father, but in the world he had just entered, the magical world, his father was a minor hero who stood up to evil and gave his life during a time when everyone was forced to choose sides. Gryffindor house was associated with bravery and nobility--self sacrifice. Its symbol was the lion. Many Gryffindors were also very intelligent, but there were houses with a higher average IQ. Gryffindor suffered a huge body count during the last war against evil. Some of its scions sat in mental institutions or were in prison at the beginning of the first Harry Potter book because they were the victims of great torture and treachery. The second house on Harry's mind was Slytherin. The most famous Slytherin, other than Slytherin himself, was Lord Voldemort - "he who must not be named."Harry's friends had told him that there wasn't a witch or wizard who "went wrong" who didn't belong to Slytherin house. Slytherins were known for cunning and brutality. They were sarcastic and biting in their humor. They were elitists, worried about "good blood." And most of the Dark Lord's greatest followers were Slytherin alumni.

Harry's first winnowing came earlier than the sorting scene. All first-year students at Hogwarts had to pay a visit to Ollivander, the wand-maker. In a process of trial and error, Ollivander helped each child find the wand that chooses its owner. Harry's match was hard to find, and in the end, Ollivander tried a long shot, matching Harry with a wand that was the twin of Lord Voldemort's wand. This was Harry's match--the wand that chose Harry--and Ollivander told Harry that the owner of the first twin did "great things," and although they were "terrible things" he reemphasized that they were "great things" with an expectant twinkle in his eye.

Now, Harry, sitting in the chair to be sorted, had a "sorting hat" lowered over his head. Immediately he heard the sorting hat talking into his mind. Harry began to repeat, like a prayer, "not Slytherin." And the hat questioned Harry, "are you sure?" and pointed out that Harry could "be great." But ultimately, the sorting hat listened to Harry's request and said "better be Gryffindor."

In both cases, Harry experienced an authority figure's telling him that he could be great. That he could do great things. In both cases, Harry chose another path. Throughout the books that follow the first, Harry maintained a suspicion of Ollivander and never really liked him. In a later book, during a crisis of identity, Harry put back on the sorting hat and the sorting hat maintained that he would have done well in Slytherin. Dramatically, Harry tore off the hat and said "You're Wrong." He actively resisted the calls upon him to be a great man.

This week, someone pointed me to an article about John Wesley's failed marriage. Go ahead and read it. It was sad to read about the situation. It's not as though Wesley had a very healthy marriage mirrored for him by his own father. It seems unfortunate, but true, that the best trait for successfully marrying a Wesley is sainthood. And his mother was a real saint.

Wesley was a great man. He did great things, wrote things, named things. Most Christians have heard John Wesley's name. But his goodness is another story. At least from what I've learned about his marriage, it paints a picture of a man who had odd priorities. Many great men have these kinds of lives. Please, I advise you, don't ever look too closely at the lives of Einstein or Martin Luther King Jr. or Elvis Costello or Gandhi. Just don't do it. So many of these great men are hard to see as good men once you look closely.

A certain strain of piety would respond to all this by pointing out that none of our lives bears up under close scrutiny. And that's certainly true. But my point here is not to drive you to the cross of Christ for forgiveness. I hope that you have already done this. No pursuit of virtue or goodness should be on your radar until you have made peace with the Lord of all life. My point here is a different one; it's about orientation, walking in Christ's footsteps toward the cross. Will we read the biographies of great men and hope to be great men? To have our names known and our praises sung? Will we seek to do great deeds that will be recognized as great deeds? Or will we seek to be good men? Will we seek to risk our own comfort, dreams, or notoriety in order to serve in more humbling ways? To be good friends, to be good husbands, to be good churchmen? To die, not in heroic ways, but in little ways--dying to our schedules and our goals. Seeking first God's Kingdom and Righteousness is hard. It seems as though we're neglecting all the world-changing stuff that is supposed to be "added to us" as well. It's risky being good. It likely will mean not being great. There were a million boys Bob Dylan's age who just retired from fixing cars or plowing fields, but who could have had a career in music.

In the end, Harry has the opportunity to own the greatest and most powerful wand in history. Instead of taking it for his own and continuing that wand's bloody history of passing from great man to great man, Harry uses the wand to repair his own broken, normal wand. And then he seals away the wand so that no one else will use it for good or ill. At Harry's own death, the reign of that wand would be over and it would no longer belong to any great master. Harry breaks the terrible power that the tools of greatness have had over the world. In addition, the story ends with a certain Slytherin who is a deeply good man, dying for the good of all. And this breaks the power of the sorting hat. Harry tells his own son, named for a good Slytherin and a good Gryffindor*, that it doesn't matter what house the hat sorts him into. And this is because good men have broken the power of the wandmaker and the power of the sorting hat by refusing to be great men.

My wife Ann emphasized to me Harry's ongoing mistrust of Ollivander. In a future essay, I'll try to expand on this subject a little more in reference to Rod Dreher's new book "The Little Way of Ruthie Lemming." The discussion of that book really helped to crystallize thoughts about ambition, and sent me to the scriptures where I found a lot more about ambition than I expected to find.

* I almost wrote a "good" Slytherin and a "great" Gryffindor because the Gryffindor in question, Albus Dumbledore, is revealed to have been a very selfish man, seeking greatness at the expense of his family. But Dumbledore's repentance, and eventual willingness to be a villain for the good of all represents a change. He is a chastened hero. Another example of a chastened hero is Spiderman who begins his career by indirectly causing the death of his own uncle by selfishness and deceit. It colors his life as a superhero, infusing goodness into what would have only been greatness.

05/01/2013
Southern Syntax: However / Ever How

One neat thing about syntax in the south that I run across frequently is the use of "ever how" in place of "however." Same goes for "ever which" and "ever when."

Examples:

Ever how we do this, it is going to take at least a week.

Ever when we do this, it is going to be painful.

Ever which one we choose will entail a bit of a learning curve.

Those are sentences I've actually heard in reference to software development. I haven't looked up the history of this. For all I know, "ever which" came before "whichever" and southern syntax is preserving an older usage.

04/29/2013
Polluted and Polluting

It only just really dawned on me that I have tended to think of the Christian church mainly as an institution that is at risk from the flaws out there in the world. The main narrative that I carry around is that she can become polluted by the avarice, lust, and greed of the world and that we must protect her from the world.

It had never really occurred to me to think that her flaws could harm the world. Certainly I know that people in the church do terrible things. People who have been victimized by the church know all too well that there are evil people in the church. What I'm talking about here is the realization that the church, as model, can actually harm the world. When she models the right things, she serves as a light on a hill, showing a world of violence and division what true community looks like. I think this picture of the church really motivates a lot of the younger churches in my own presbyterian denomination. They want to model a multi-racial, class-integrated community of learning, service, and worship, bringing the picture of the world that the Lord's Supper depicts out into the whole world of of commerce, art, and living. They are, in essence, throwing the banquet and trying to fill it with guests.

But the church as a whole is very divided. And I've always thought of this as a failure to seize the opportunity to influence the world in a positive direction. In reading a review of the indirect role of churches in the terrible slaughter in Rwanda, it dawned on me that the church can not only fail to be a positive influence, but that she can succeed in being a negative influence. In fact, the church is the most powerful thing in the world because she is the seat and body of all unity, joined to the God-Man, Jesus Christ, who brings human nature into the very fellowship of the Trinity. When the church shines, she can transform the world. But the awful corollary is almost too sad to say out loud: when the church gets something wrong, she can ruin the world more effectively than the world can ruin itself.

If you want to know why Americans are currently swallowing the nihilism that makes possible the approbation of every manner of evil and departure from God's design for the world, it is because so much of the church has already done this. It is very difficult to have the cultural wisdom and insight to connect specific, concrete failings of the church to concrete failings in the world, and I won't try to do that. Such attempts are usually self-serving. But I think I'm going to be a lot more attuned to this potential. Not only will I be thinking about what influences "out there" we are allowing to ruin the church, but what practices of the church have the potential to ruin the rest of the world.

04/14/2013
Saturday Doings: Hattiesburg, Loquats, Kumquats, Dogs with Sprained Tails, etc.

Yesterday, on Saturday, we drove down to Hattiesburg, MS to visit my parents. My mom's birthday is coming up soon and we haven't been there in a few months. It was a great visit - my dad has a new coleman-type stove and was using it outside with a big cast iron pot to fry fish. He fried up some catfish and some fish that my nephew Brett caught deep-sea-fishing. I think it was probably amberjack. We also grilled some of the amberjack. My parents have very green thumbs and their yard is like a little botanical garden. They have blueberry bushes loaded with little blueberries waiting to ripen. They have a long grape arbor with muscadines growing. Last year we made muscadine jam and it was nice to have a beautiful amber jar of jam to give to people as gifts all year long. They have apple trees loaded with little green apples. They had two giant loquat trees, but neither my mom nor dad had ever tried one. I tried a few of them--some tasted like dandelion nectar. Some of the more mature ones tasted tart. I was pretty amazed - they are really worth eating. Then my dad mentioned offhand that he had a kumquat tree that my sister had given them. This was a beautiful little tree in a pot that was loaded down with kumquats which are like tiny oranges. You even eat the peels of those. Their garden was starting to grow and there was even a mature cabbage head already that simply sprung up spontaneously from last year's crop. They have dozens of varieties of daylillies and are in a daylilly club. Then there are all the beautiful trees - Japanese maples, river birch, various kinds of pine trees, etc. Then they have a greenhouse full of cactus and other plants that were just now getting ready to take outside for the summer. Anyway, it is fun to see all that variety in one place.

Nathan brought a bunch of music with him, and on the way back to Starkville we sang at the top of our lungs to Guster, Uncle Tupelo, REM, Smiths, Beck, etc. We stopped at a Pilot truck stop in Meridian and they had gas for 3.15 a gallon. That place was packed at 9:00 at night. I love truck stops because they have 12 bathroom stalls, good coffee, etc. When you have a family of six, stopping at a one-holer gas station can add a long time to your trip.

We have been traveling the last two weekends straight; I'm hoping to stay home next weekend and get a few projects around here finished. There was some rain today which kept me from mowing the yard after church, but it is keeping the pollen at bay. My dog injured his tail yesterday and he isn't able to wag it properly today. I'm bummed about that, and if it doesn't get better tomorrow I guess I'll take him to the vet. I think he just sprained it, though.

Last week when we mowed the yard for the first time for this season, I didn't have the heart to mow all the flowers in the backyard. And so I made half of it short and the other half is wild. A good mixture of Calvin and Rousseau back there.

04/12/2013
opus, operis n. (work)

SINGULAR

NOM. opus
GEN. operis
DAT. operi
ACC. opus
ABL. opere

LOC. operi or opere
VOC. opus

PLURAL

NOM. opera
GEN. operum
DAT. operibus
ACC. opera
ABL. operibus

LOC. operibus
VOC. opera

04/10/2013
Wisteria in Starkville, MS

I'm sure that wisteria exists elsewhere in the world, but it is really prominent here in Mississippi. This first picture is of a road near my house where wisteria has spread throughout a line of trees. It's basically a vine that can grow standalone in yards, but it can also climb through a tree. Standing there, taking that photograph, the sweet fragrance was overwhelming: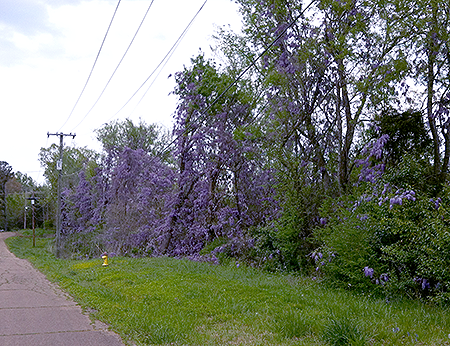 And here's a closeup of a bunch - it kind of looks like a bunch of grapes made out of flower petals: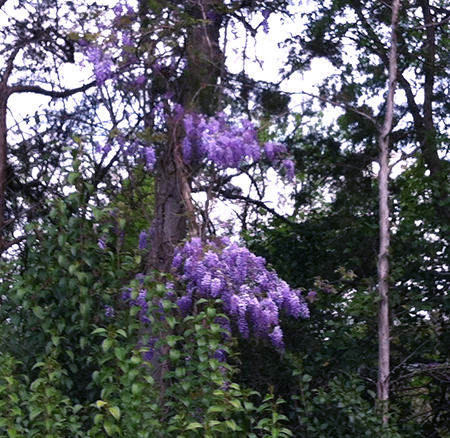 My biologist friend tells me that wisteria petals and leaves fall to the ground and are a fire retardant. He said that after a forest fire moves through a stand of trees, sometimes there will be wisteria trees still standing, unburned...

Hermanville Squirrel Revival

Copied from the Port Gibson Reveille - Thursday, April 4, 2013 edition. Note, this was the church my grandfather and father attended. It was right across the street from their house in Hermanville, MS.

Easter was just about to get underway at Hermanville United Methodist Church. The preacher Charles Pope, was robed and ready, and the church pianist, Daphne Bruce, was about to begin the prelude. Then, she noticed what looked like wood shavings on the keys of the highest octave. Karen sanders, the music director, went to find some-thing to clean the offending substance from the keys and signaled to Charles that there was a piano emergency.

Suddenly, Daphne gave a squeal and out from under the piano darted a squirrel! Karen soon echoed that squeal as the rodent rand past her sandaled feet doing laps around the piano. Soon, others came over to see what could be done about getting rid of our uninvited guest. Unable to find a way out near the piano, our visitor ran down the aisle as if his tail was on fire. He ran to a front window and unable to exit, he headed back towards the piano!

"If that squirrel runs up my pant leg like in the Mississippi Squirrel Revival, I am out the door!" declared Daphne who was shaking like the last leaf on an autumn tree. Karen agreed that she would not be far behind.

Much to the church's chagrin, the squirrel ran BACK into the piano. Some of our braver church members opened the piano and there was another squirrel, obviously deceased, laid out over the strings. One of our stalwart gentlemen graciously disposed of the poor thing, while we tried to get the other squirrel to come back out. We had probably scared the poor thing witless with our squealing and carrying on, and he was not budging.

It looked as if our squirrel guest was determined to stay for the service, so it was decid-ed that the Easter hymns would be sung a cappella. Karen, gingerly, with one eye al-ways on the piano, made her way to her chair on the platform. Daphne took a seat in the back of the church, far away from the piano. Charles took his position behind the pulpit.

And without further ado, the Easter 2013 service at Hermanville United Methodist Church was ready to begin.




04/02/2013
One Day Late, but Hey:



03/20/2013
Walls of Jericho




Last weekend I accompanied the Boy Scouts on a hiking trip at Walls of Jericho State Park. It was a lot of fun. I had to come a day late, so I hiked in 4 miles straight down the canyon to the campsite. It is hard to walk downhill on a rocky path - my feet were jamming into the end of my boots. I was also getting a little bit worried about my knees - lately they haven't been the most reliable parts of me.

The park is beautiful - waterfalls, lots of great rocks, and it is just fun to be out in the middle of nowhere where my mobile phone doesn't work and I can see all the stars. I used the app that my friend Cass wrote and looked at the constellations. I learned Pegasus well - it's a constellation I didn't really know by sight.

On Sunday, we hiked out about five miles and a mile into it, my left knee was killing me - a meniscus tear that I've had for a while must have moved into the joint or something. Anyway, there wasn't much to do except just wince and keep walking. There was one moment where I wouldn't have been able to step up a steep rise without leaning on my son Nathan - he's nearly as tall as I am now. I iced it all the way back to Starkville and it has continued to be painful. I bought a brace for it today and I'm wearing that now. Four days and it is still just about as bad...

I can hear Nathan in the next room playing "Big Nothing" by Elliot Smith on his guitar. It's cool when your offspring likes good material.




One funny thing is that on the hike I wore my straw pith helmet. I originally bought it for Nathan a long time ago when he was kind of in a safari/outdoor phase where he was keeping journals of animals he'd seen and walking around with a field bag. And wonder of wonders, it didn't just serve the purpose of embarrassing Nathan, it was also very useful when I hit my head on the underside of a cool cave near the waterfall.

03/02/2013
I Walked Back Down

Embarrassing confession: until this year I thought Tom Petty's "Won't Back Down" was really "Walked Back Down." And I thought the song was about resignation. See, in every verse he gives his intentions - to stand up against the gates of hell, to stand his ground, but he always gives up and admits that he "walked back down." The funny thing is that the song is about the completely opposite idea--not resignation, but defiance.

In my defense, growing up listening to REM ruined me for song lyrics because song lyrics are in a category for me labeled "doesn't have to make sense." And so if Stipe can sing "up to bar and Katey bar the kitchen sides but not me in" I was cool with that. It didn't have to make sense.

Until Spotify, there were tons of songs that I knew only through the radio from when I was a kid, and those are the ones that keep surprising me because I'm just now seeing their titles in print.

02/24/2013
What the University Is

Saint Louis University (SLU), the school where I earned my Ph.D., has been in the news a great deal lately. What started as an attempt to introduce a different kind of tenure review system has blossomed into a real fight for the soul of not only a university, but in some ways, "The University."

At first, I admit that I was a bit resentful. From the outside, it looks like a bunch of academic types whining that things aren't like they want them to be. For someone like me who wanted to be an academic but could not find an academic job, I was thinking "Man, I wish I had their problems." But I know some of these people, including the head of the theology department who recently resigned his chairmanship as a protest, and one of the professors who has been speaking out who was also my wonderful dissertation advisor. These are real men, who love their families and help their students every day, men who are not whiners and who are not prone to any kind of academic snobbery or idealism. Some of these men are modern day saints, starting prison ministries and taking the time to still protest war and abortion.

Looking more into the situation, I realized that what is going on at SLU is a kind of canary in the coalmine for academia in general. This is really fitting. Saint Louis University was the first university west of the Mississippi. It was the first university in any of the former slave states to admit African American students. It has a really high regard for learning, and still takes its Roman Catholic identity seriously by requiring theology courses of its students, most of whom are paying north of 35k per year for this kind of education.

The general picture is this - SLU is a school run by a very charismatic figure, Fr. Biondi. The school is expanding downtown, building buildings, and generally impressing the community with its development and redevelopment of a pretty tough area of St. Louis. Its academic ranking is starting to slip slightly because of the allocation of resources away from the Library and a few other measures. The president takes a very corporate approach, as a kind of CEO, and the board is mostly staffed by people who are on his side. The professors want the university to be run in a collegial way, where the voices of faculty and student senates are respected by the board and decision making arises from consensus, aimed towards the values that animate educators - openness, academic integrity, etc.

When the president's hand picked man put through, with no discusion, a plan for tenure review, many of the professors were stunned. They didn't like the plan, which essentially eviscerated the idea of tenure and the kind of academic freedom it produces, and they didn't like the way it was introduced without discussion. And so a series of actions happened, from protests sent to the President, the stepping down from his position of the man who proposed the new tenure rules, votes of no confidence by the faculty senate, the president's hiring a PR firm to handle the negative publicity and instructing the board not to talk to press or faculty about this. The situation began to go downhill as the faculty and student senates did not feel like their concerns were being heard, and the faculty even withdrew from some of the boards that had been established to foster discussion between the faculty and administration. You'll see Eleanore Stump's name in that process - she's one of the most famous philosophers of religion in the world. The professors felt like a climate of fear pervaded the campus; speak out against the president and your career could be in trouble. That may be fitting for Ford Motor Company, but not for a university, they reasoned.

This discussion is coming everywhere soon. Saint Louis University took the step a few years ago of not allowing online courses. Though this would be smart, in a business sense, they saw themselves as holding the line on a kind of ideal of education where a student isn't just punching a clock or filling out forms, but is really formed by interaction with faculty and other students in learning, service, and worship.

But several realities are coming - America's economy is really suffering. Many students graduate with mounds of debt into a world where a liberal arts education is merely a doorway to being a clerk or a receptionist. Consumer oriented colleges and universities find it hard to prevent grade inflation. Students are catered to rather than challenged. Their parents have a consumer mentality and dare to call professors and complain about grades. A college education from a good school is pitted against an online degree that may or may not have been high quality. And a lot of online instruction is simply excellent - Kahn Academy probably has as good a system of mathematics instruction as any school I ever attended, and I attended some great ones. Point is, the current situation is a bubble fueled by student loans. A college education is not worth 100,000, just like homes weren't worth as much as the real estate bubble valued them to be. But this question of "worth" when it comes to education is a stickier subject. Worth in terms of future earnings is a different question than worth in terms of character formation. Becoming an educated person is still an ideal that retains importance for many people, and so it isn't just antiquarians and ivory tower types who are concerned to hold certain lines on a college education.

Anyway, these issues aren't easy. Elitism lurks around every corner. But I would recommend watching how this debate unfolds. It is more important than it may seem.

Here are some resources for reading about the situation:

MP3: Interview with Kenneth Parker, professor of theology

Heithaus Haven - a blog started by SLU professors. Named for Fr. Heithaus who gave a stirring speech in 1944 that got him put on bread and water by Jesuit superiors, but which resulted in the admittance of African Americans to SLU.

This one made the profs mad: Comments on the article 'Fr. Biondi Takes Controversy in Stride'

Document: The explanation from the chair of the department of theological studies for his resignation

Petition: Vote of no confidence petition

Article: The SLU Leadership Crisis: Why Feelings Matter

Article: St. Louis University trustees must weigh loyalty to Biondi against campus uproar (read the comments on that one)


02/21/2013
Not Forty Yet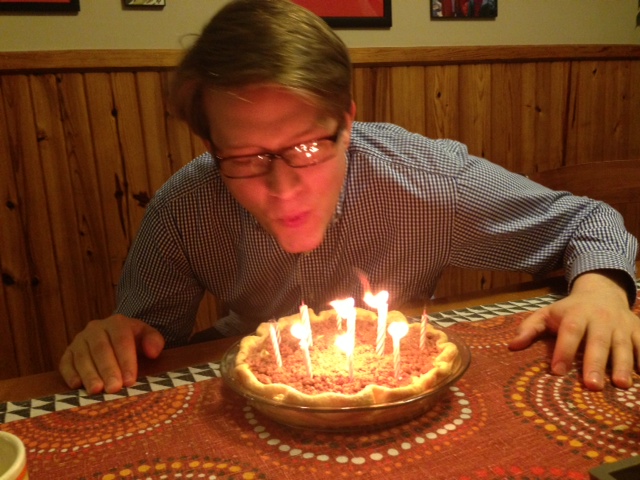 This year I had a birthday pie. I love pie. And Ann makes great apple pie with a crumbly cinnamon top.

02/16/2013
What Up

Last week I had to attend a meeting related to my job in Washington, D.C. The hotel was right near George Washington University - the "Foggy Bottom" metro stop if that helps place it. It is never fun to be away from home, and though I had a sufficient per diem, everything costs so much in Washington - coffee, etc.

The last day of the meeting, things wrapped up around 2:30 so I had a little time to get on the Metro and go to the Smithsonian museums on the national mall. I was hoping to have time to go into the art museum, but only had time for the American History museum. I wanted to see the steam engines and the Tesla and Edison stuff. I love that wing of the museum because you can see all the little incremental improvements in the steam engine - so much ingenuity to admire there. I also wanted to find souvenirs for the kids. When I was a kid, my father often had to travel to D.C. because he worked for NASA. And so he would often bring home souvenirs from the Air and Space Museum. I especially liked the little cut out Space Shuttle that was made of card stock. Hah, just googled and found that you can print that model out at home now! Ah well. I found a good souvenir for Eli - a "make your own document" set that had a little bottle of ink, a real feather, and some crinkly old looking paper. He loved it and drew a treasure map this morning. For the older boys, I just got them some candy.

I was really disappointed in the lighting in the gallery with all the steam engines - whole cases were dark and you couldn't read the descriptions or see the items well. They really need to keep those bulbs changed out; pitiful. Some of the displays were outdated - for instance, the caption on something about Tesla said that in the "case behind you" there is an example of an A/C motor he designed. Well, that might have been true at one point, but now the Tesla A/C motor was on the other side of the room from that display.

This weekend my church had a marriage conference. We were able to go to a few of the sessions and it was interesting. It is amazing how much advice in your average marriage conference doesn't apply 1:1 to families with disabled children. There was still some good information, but I'm just pointing out that sometimes the assumptions have to be adjusted a bit. An example would be the assumption that you and your wife will live together much longer than you and your children will.