Well, this week on a trip to Jackson, MS, I ate at Mr. Chen's and it was amazing. I had Kung Pao Chicken and it was very tasty. I'll eat something more authentic next time, but I was hungry and not in the mood to experiment.
Eli always likes to try weird fruit, so because Mr. Chen's also doubles as an Asian Grocery Store, I was able to pick up what looked like the weirdest fruit I'd ever seen – dragon fruit. Here it is after Ann cut it in half: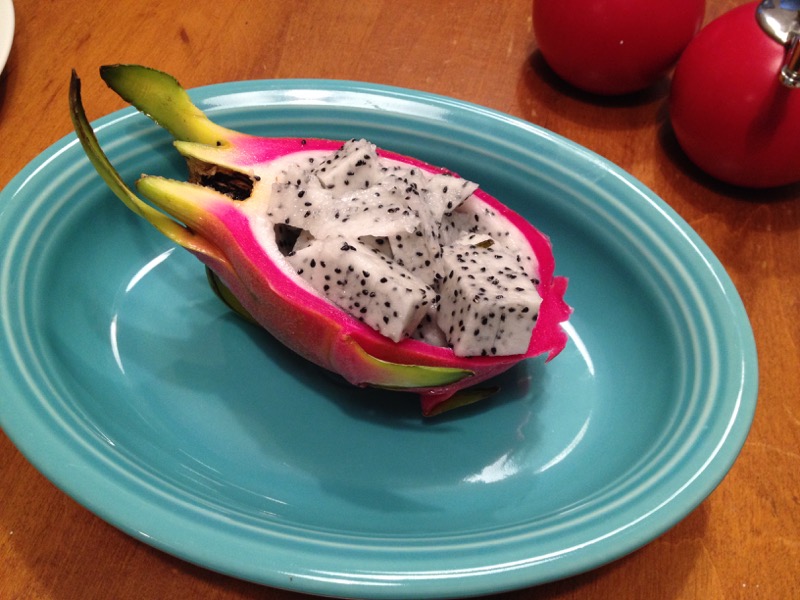 It comes from a cactus, apparently, and tastes like a cross between kiwi and pear. That's the theoretical flavor, but this one was kind of tasteless; maybe flying from wherever and being refrigerated zapped all the flavor. But Eli was able to have a really novel experience for a low cost. And it is very pretty, I'll admit.
Today we went to the Cotton District Arts Festival. It's a lot like the Clayton Arts Festival in St. Louis except instead of fine art, it is mostly jewelry, crafts, etc. The food is great. I should've taken a picture of the shish-ke-bob I had. Wow.
Here's James and Eli posing in front of the crowd: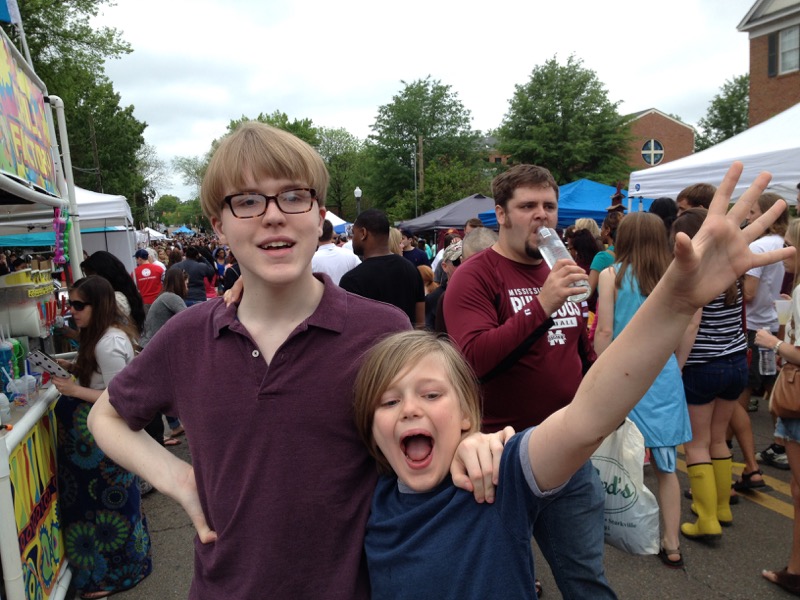 I don't know why I felt so curmudgeonly at this thing, but leading three children through a crowd is always a little trying. At the ice cream stand, a dude tried to convince me that the 1hp John Deere motor turning the ice cream maker beater was running on water. Uncharacteristically, I argued with him. I said "I can smell the gasoline." And then he said something about how it's running on the hydgrogen from the water. "Oh" I said, "like Brown's Gas" and he said "no, not gas, water." Sheesh. Anyway, when we got to the front of the line he asked the man who owned the booth and the guy confirmed it is a gas powered engine. Of course. Look, I'm the biggest conspiracy theorist there is, but I don't buy the "detroit is hiding all the efficient technologies from us" conspiracy theory mainly because of the laws of physics. Yes, you can run an engine on Brown's gas, but it would take electricity for the electrolysis to get the hydrogen out of the water. Of course, I apologized to the guy for being so contrary. I think it just hit a sore spot – all my life I've wished for some kind of cool alternative fuel / engine situation and they always turn out to be hokum when I look into them.
Oh, last weekend we went to the zoo in Hattiesburg with my parents. It was a lot of fun. Here's a great pig that Eli was able to pet: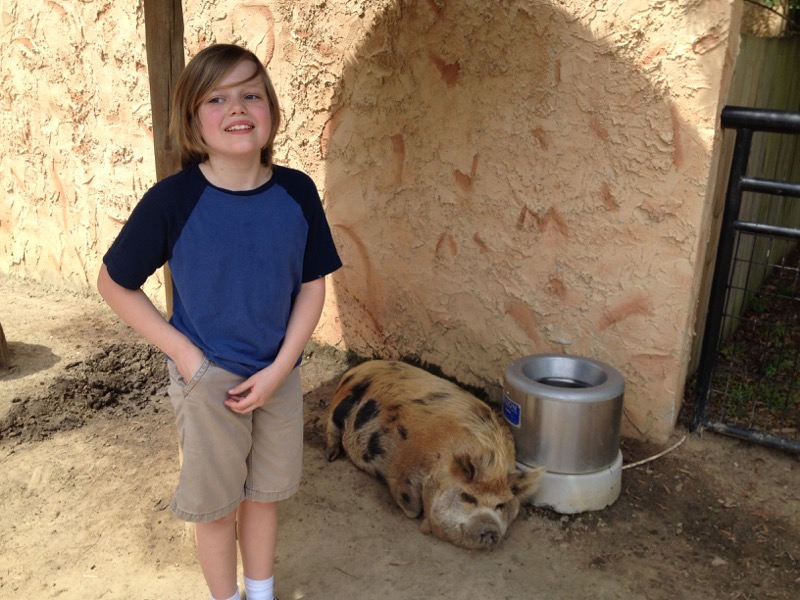 I hope you guys are having a good week. I'm tuckered, man. What a long week.